Please join us for the dual Fall season exhibitions of Joe Cardella: 25 Years of Art/Life Limited Editions and Maurice Roberts: Correlation.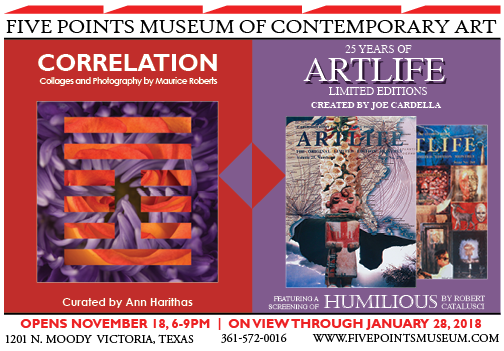 Correlation is an installation by photographer and collage artist Maurice Roberts and focuses on the correlation between patterns, objects and events. His photography is rooted in South Texas but extends to the wider US as well as Central America and Europe, and explores universal patterns and archetypes. He expands on these themes through collage, culminating in a new visual representation of the I Ching, or "Book of Changes", a Chinese classic of philosophy and divination that has inspired both Eastern and Western art for centuries.
25 Years of ArtLife Limited Editions is a retrospective of the magazine ArtLife, a periodical that every month featured original art and has allowed artists from around the world to show their work. Joe Cardella, the creator of ArtLife, has compiled a visual history of the magazine, from its earliest beginnings relying on hand edited photocopies, to the final edition with a plywood and ceramic cover. ArtLife is in the permanent collections of museums and libraries around the world, including the Guggenheim, the Whitney, Harvard, and Yale. The center gallery of Five Points Museum will be the ultimate reading room, allowing visitors to browse this extraordinary collection of work.
Five Points Museum's media room will also be screening the new film by Los Angeles filmmaker Robert Catalusci, Humilious. Shot in Los Angeles, Humilious is a blend of film and performance art and explores alternate mythologies around life and death. Joe Cardella considers digital works by Mr. Catalusci the next evolution of ArtLife.
These installations will be accompanied by art cars from the museum's permanent collection, chosen for their subject matter and medium and visually related to the exhibits. All of the exhibits are curated by Ann Harithas, the museum's founder and executive director.